Nowadays, any serious company is expected to be found on the internet as well. The first thing many do is create a Google my Business listing and set up their Facebook page. These are very easy to maintain. But if they don't go one step further and get their own website, they are giving away unimagined potential.
Here I show you 21 reasons why you should definitely create a website.
1. welcome their customers on your website
Think of your homepage as your storefront on the Internet. Potential customers walk past your shop window and come in if they like what they see. In the best case, they will then buy a product.
"Yes, but a customer can't just walk past a website!" they're probably thinking now.
You will be surprised how many opportunities there are on the Internet to accidentally stumble upon your site. Such as Organic SEO, Advertising, Social Media …
They put a lot of time and money into their storefront to make it appealing, so they should do the same with their website.
2. the customer searches the internet first
If we look at the customer journey of today's customers. Then the first step in case of a problem is to google it. Then search Amazon and other review sites for testimonials and watch as many different videos as possible on YouTube.
If customers can't find a web page, but jump immediately to reviews, leave it to other people to describe their product. This may or may not be in their best interest.
But if the customer has already built trust through your website, worse reviews can be neutralized.
3. the design describes the character of your company
Through the design of your blog, you can control how your business is perceived from the outside.
Do you value timelessness, stability? Or do you always have a modern internet presence.
What colors do you use? Rather cold, professional colors or warm, soulful colors?
Do you have a site you clicked together yourself or a professionally designed one?
All these details reflect the character of their company.
Therefore, sometimes it is better to have no website at all than a bad one that misrepresents the company's values.
5. The blog reflects the values of the company.
A blog on your website gives you the chance to tell the customer something about your offer, your way of working, your values.
Through every article you publish on your blog, you show the customer a piece of your business.
So you can, for example, take visitors to your site backstage and offer them a look behind the scenes and show how your company works.
But not only the texts, but also the design reflects their personality. Do they have many small details in the design, or is everything modern and simple? These details show the customer if you are a good fit for them.
6. a good website looks professional and inspires confidence
Do you go to a client meeting in a wrinkled t-shirt and ripped jeans?
No?
Why not?
It would look unprofessional and off-putting, wouldn't it? If they can't even take care of themselves, how can the customer trust that they can solve their problems?
It's the same with your website. Today, there are numerous templates for websites that suggest you can cobble together your own website in 5 minutes.
These are fine if you just want a small electronic business card. If you want to use the full potential, a web designer should conceptualize and design the website with the target audience in mind. Because ultimately it is the visitors who have to find their way around the page. If they don't find what they are looking for, this leads to a high bounce rate and the loss of potential customers.
7. Information creates trust
Imagine you are watching a new series. In the first 5 minutes everything is foreign, the environment- the actors.
After the first episode, you know the characters a little and have decided if you want to keep watching. After more episodes, you have become a fan and buy merchandise.
There's a very simple process behind it. In each episode, you learn more about the characters and you start to identify with them.
This is exactly what happens on their website. The more they reveal about themselves, the more readers identify with you. The more they identify with you, the more you trust them and are willing to use your services.
8. You can increase your reach with SEO
The wonderful thing about content is that you are seen not only by the visitor who types your URL into the address bar, but also by search engines.
Google, Bing and Co. are search engines. Their goal, when someone asks them a question, is to find the BEST and FIT answer on the Internet. If you don't do this, your customers will go elsewhere. Therefore, always look for up-to-date texts with correct and detailed answers to questions.
Therefore, you should not only optimize your content for readers, but also do so-called search engine optimization to ensure that search engines can find your content.
Make sure you provide the best answers, then Google will attract many potential customers to your website.
9. durch lokales Seo mehr Kunden aus der Umgebung
Do you have a small storefront or restaurant and believe that SEO is not important to them because they only target local clientele?
Then you are wrong.
Google makes a very strong distinction between who they show which search results to. So, even though I type "best restaurants" on google.DE in German, I get the best restaurants in Zagreb, because Google knows that I am in Zagreb.
If I allowed Google to access my exact location, it would show me the best restaurants in my immediate area.
But how does Google decide what the best restaurant is?
Googles decides which restaurant is the best based on the Google business listing, reviews, website and backlinks. But Google keeps the exact ranking recipe a secret.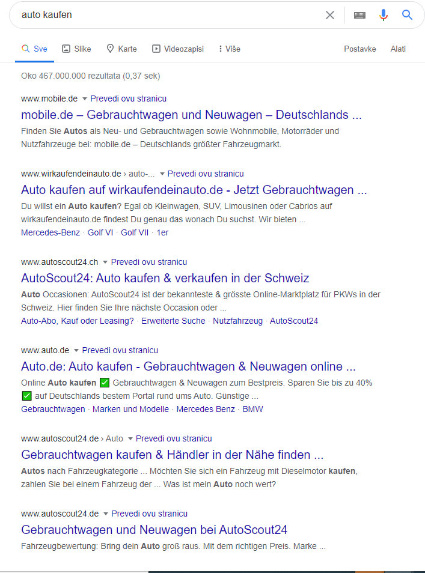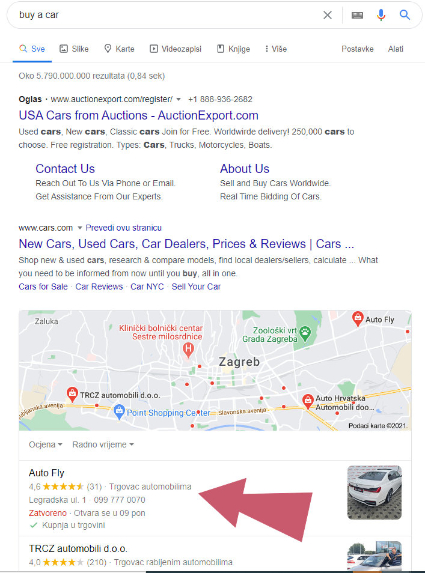 But not only that. Google also knows the intention of the searcher. Enter "buy a car", then Google knows that the searcher probably wants to buy a car in Germany, and shows mobile.de. On mobile.de, many cars are bought in Croatia and then imported.
However, if you search for "buy a car" then it will look at the nearest car dealerships in Zagreb. Google assumes that the searcher wants to buy a car, but doesn't speak Croatian.
10. favorable marketing
SEO measures take time and patience. It always takes time for Google to declare you trustworthy and for your site to show up in search results. And then it only happens if the search engine considers your content relevant.

Therefore, you need to know your target audience quite well in order to answer the questions you are asking.

But the advantage is, if you research more thoroughly the topic than the rest they know their target audience better than rest and thus write better texts than the competition, then the readers come by themselves without having to pay anything.
11. You can better target your marketing based on analytics data
The analytics data of their website shows you exactly who was on your site.If you have a store, you also know who all comes to their store. You can see if it was a woman or a man. How old the visitors are. How they are dressed and much more. This way you can see exactly who is interested in their store and better target their audience.

At first glance, a website appears anonymous, but with various programs, you can find out how many visitors your website has, what time of day most visitors come, how long they stay on the website and much more information. Just always pay attention to the privacy policy so that you don't make yourself vulnerable.
12. Advertising landing page
Now you're probably asking yourself, why is a website important for advertising? After all, you want to advertise on other sites on Google or Facebook.
But where do the ads go when they are clicked?
The website not only gives you the chance to lead potential customers to your site through advertising, but it gives you the opportunity to launch an advertising campaign perfectly tailored to the product for each advertising campaign.
13. available around the clock
In a local business, they are available when they are open. If you offer a service, then you are only available during your working hours.
But what about potential customers who are looking for your offerings outside of their working hours?
On your website you have the opportunity to provide information around the clock and you have the chance to retain the customer.
14. You can have an area for frequently asked question
At the beginning of their customer journey, all customers are interested in the same questions. 1. How much does the offer cost with everything to and then (VAT, shipping costs, etc). 2. What is included in the offer. This information is essential for your customers, so provide it as easily accessible as possible.
But customers are interested in so much more.
What if I do not like the offer?
Who should I contact in case of problems?
What about the warranty?
Where can I find an instruction manual?
....
These are all questions that most customers ask. And it takes a lot of time to repeat them over and over again.
You can save a lot of time with a Frequently asked questions page, because you can also refer inquiries by mail to the page.
15. Sell products directly
But not only can you provide information 24 hours a day, you can also sell your products 24 in your online store.
This way you can generate sales even when you are not in the store. So someone can buy their product at midnight, even though they are sleeping comfortably in their warm bed.
Or you may have a buyer come into the store who can't make up his mind. To this you can then say, "No problem, if you have decided, you can conveniently buy from our online store and do not have to come to the store again.
16. Stronger customer loyalty through interaction
Live chats, popups, pop-up Q&A's make the website interactive. Every button the visitor clicks, every video he watches, every message he writes on the page, he interacts with the website. And the more he interacts with the website, the more his customer loyalty is strengthened.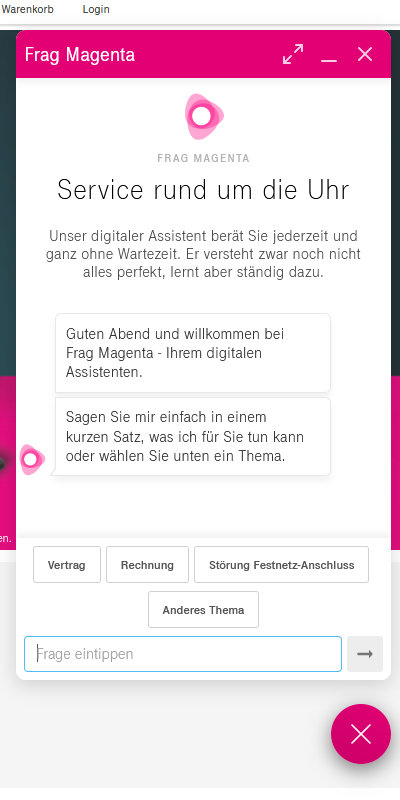 In the T-mobile example, you can see how the visitor has access to the live chat on every page, should they still have questions.
17. Build a community
If you include a forum on your site, users of your product will start helping each other. This way you can build a loyal fan base.

You should keep in mind, however, that forums are very time consuming. In the beginning you need a lot of time to encourage readers to register and participate and later a lot of time to moderate.

.
18. easy International expansion
If you want to offer your product or service in another country, then you can extend your website and just need to create a subdirectory for the new language and translate your website.
Here are some factors to consider if you want to rank in good places on Google even with the foreign language version of your website.
20. the website is always up to date
On your website , because that way your customers know they can always get information on their website.
This way, readers will be happy to come back when they need new information.
21. the website is your property
Isn't it enough to just set up a page on Facebook, Google+, or some other platform? The problem with these platforms is that their popularity can drop. And then the content isn't worth anything either.
This is a bit like having a rented house and a bought one. You can be kicked out of the rented one, but not the bought one.
As you can see, a website can support your business in many ways.